Your Local Pub as a Fundraising Hotspot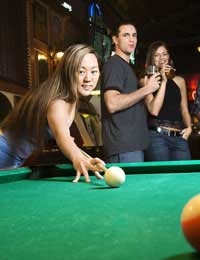 There is nothing better than combining a social event with some fundraising. One of the best places to get people together in this kind of environment is at your local pub. Mixing some friendly drinking with a good group of people can lead to not only some fantastic fundraising events, but also a great party environment. Always ensure you speak to the pub landlord before you start planning events and try and indicate that the event can not only bring the landlord extra revenue through alcohol sales and food sales, but also stand them in good stead in the community also.
Making Use of Your Pub Amenities
Most pubs have items in them that can be used to generate funds. One of the most common events is to hold a pool tournament if you have pool tables available. Get every contestant to pay an entry fee and have a small trophy at the end for the winner and runner up. This way, you do not have to spend a huge amount on prizes, but can get a large number of people involved. You can even take small bets on who will win the tournament and tally up all the money at the end of the evening. If you have a very generous landlord, they may even donate a portion of their takings for the evening to the cause. Another great way of utilising the amenities at hand in your local pub is to set up a dart competition. Again, get as many people as possible involved and even try some fun alternative ways of playing. Play in teams, men against women, or play blindfolded for a real twist. Offer prizes and charge for entry so you're covering any advertising costs. If team competitions aren't really you thing, why not hold a karaoke event to raise money. Again, offer prizes for the winners, but charge an entry fee to the event for those who want to be part of the audience. A karaoke is a great chance at selling extra money making products such as raffle tickets or lucky dips.
Pub Events for Every Age Group
Every adult, regardless of age enjoys a good challenge and one fun way of raising money for your charity is to hold a pub quiz night. You can have themed quizzes to suit your audience and supporters, but for the most fun, generally people enjoy an open general trivia night. Charge participants to take part and offer a small prize that perhaps your landlord may provide. If you feel a bit more energetic, you can arrange pub races where you all meet to participate in a sponsored race. Your imagination can run wild here and you can race personally, or could race bugs, chickens or even on contraptions you've created. If many members of your local enjoy a gamble, why not arrange a poker evening for charity. You can set up a number of tables and play the event over a few nights culminating in a grand final on a busy Saturday evening. If you fancy a change of scene, why not arrange a pub crawl. This will keep the drinkers in your supporters group happy and raise funds for your chosen charity at the same time. Overall, there are numerous ways to raise funds by using your local public house. Speak to your supporters and ask the advice of your landlord. He or she will know their patrons better than anyone and should be able to advise on what type of events are likely to get them reaching into their pockets to give you some much needed donations.
You might also like...
hi am looking for a venue that can hold aa few charity events pool competition tarts competition man vs pie
rosie
- 22-Apr-17 @ 7:44 PM