Putting the Fun in Fundraising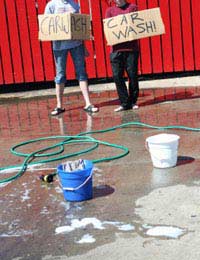 Fundraising should be a fun-filled event for everyone taking part. There's no point in trying to get people interested and excited about raising money for a good cause if there's no enjoyment involved in participating. Most people will have been to a fundraising event at some point and getting to see people have fun there can make a big difference to donations and money raised. Dependent on your level of fundraising, participants and event, there are numerous ways to keep the fun in fundraising.
Large Scale Events to Raise Large Amounts of Money
If you're lucky enough to have a sponsor behind your fundraising, or to have a large number of volunteers or advertising, there really is no limit to the kind of fundraising you can do. Many people get excited by the idea of travel and exotic locations when it comes to fundraising, so if it's possible to involve some of these in your ideas, then it's definitely worth doing so. A great way of having fun when fundraising, is travelling around the country. If you can arrange a sponsored bike run around your local area, or even someplace more far flung, that is sure to gather you plenty of attention. Another option would be travelling to another country and climbing a mountain, or perhaps walking part of the Great Wall of China for charity. All these events normally get a lot of press attention too, so the more people who are seeing your fundraising event, the best chance you have of raising lots of money. It's fun to take your volunteers abroad and make a real event of your fundraising too, it'll be something they'll remember for a long time and certainly have lots of fun doing.
Fun Company Fundraising
If your company is looking for a fun way of raising some funds, why not ask all the employees for ideas, you'll be amazed at how creative some can be and how adventurous they'll become. A great fun way to raise some charity cash in the office is to have zany activities like office Olympics. Always check with your health and safety officer first though if you decide to do this.
Office Olympics can involve sports such as swivel chair rowing, vaulting the desk, Frisbee shot-put and anything else you can think of. You can even take your events outside if you have a large green space and create actual events for your workers to take part in. Many will enjoy the idea of a fun run for charity, whilst the less energetic might prefer something that doesn't require as much energy. Ask what they want, that's a sure fire way of getting some fun injected into the office and getting together that much needed cash. Even simple things like dress down Friday or a bake sale can be great in an office environment.
Letting Kids do some Fun Fundraising
Children love the idea of fundraising. Not only does it teach them a lot of essential skills such as organisation, money handling, responsibility and planning, but it also shows them that it's an honourable thing to raise cash for those less fortunate than themselves. If you're looking for some original and inventive ways to get kids having fun with fundraising, why not try some of these ideas.
You can get all the kids at school to enter their preferred teachers name into a ballot box and charge them a small donation for doing so. When the votes are counted, whichever teacher has the most votes has to come to school in a funny outfit, take part in a school activity or let all the children in his or her class have a free hour during the day to do fun things. You can also hold an entire event such as a dance, a bring and buy sale, a trivia night or even a school show dependent on how organised you are and how much time you have to devote to fundraising. Even small events will get the children involved and having fun. Getting them to create works of art, making cakes, developing dances and songs – all of these things are fun and can be sponsored or sold to raise funds. There are no shortages of fun fundraising ideas, the trick is to let your imagination run wild.
You might also like...
Am putting out a plea for donations /sponsorship for fitton hill bulldogs rugby league club Oldham we are in need of more funds so we can start work on our new ground drainage system new playing surface and changing facilities. It's a community project and needs starting Asap. Many thanks for taking time to read this plea. Michael Hutchins commercial manager /fund raiser volunteer
Mick
- 12-Apr-17 @ 2:23 PM