Office and Work Fundraising Ideas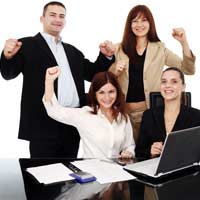 If you want to be giving whilst at work there are a multitude of ways that you and your co-workers can band together to make a difference. Whether you're part of an office or some other kind of working environment, little fundraising ideas can collect much needed extra cash for charity organisations and can also add a little fun to the workplace at the same time. Always ensure that your boss or supervisor is aware of your fundraising efforts and supports you in your cause.
Office Fundraising Ideas
In every office, there comes a point in time when swearing usually becomes the norm. If this is representative of your office, why not try adding a swear box and agree to add a fine to it every time you swear. You'll be amazed at how quickly the money can add up and you can then donate it to charity every time the jar is full. Similarly, you can put a collection box on your central office desk and whenever anyone has some spare change they can put it in there. If you have a reception desk, try putting one there and encouraging staff to add their loose change to it when they leave every night. If you're worried about security, make sure you use a sealed collection box and attach it to the desk with a chain. Another great fundraising idea at work is particularly useful if you have to wear a suit to work. You can arrange a non-working uniform day, or a casual dress day. Each individual who wants to take part has to pay a fee to do so and the money is then donated to a charity. You could also organise a sweepstake for an upcoming sporting event. There are plenty to take part in from football to tennis or the Grand National. Simply award the winner 50% of the total takings and the other 50% can go to your chosen fundraising cause. If you think your work colleagues would enjoy a raffle, why not approach local shops or even your own company for some free prizes that can be raffled off for charity. Remember it's easy to buy a raffle book and sell the tickets for no more than 2GBP.
Adapting Ideas to Suit Your Office Fundraising
Just because you're in the confines of your office or working environment doesn't mean that your imagination also has to remain there. Many successful traditional fundraising events can be adapted to suit your office space. Why not try a cake sale by making some goodies to sell around the office at lunch time. The more people you can get to take part in creating some delicious cakes, the better for your fundraising drive. You can even ask people to take part in some sponsored challenges. One of the most popular at offices tends to be sponsored runs, fasts or daredevil type events. There's no point in organising a sponsored silence at work as your employers aren't likely to take too kindly to nobody arranging any work or answering any phone calls! You could however arrange a sponsored no email day or something similar with your employers permission. Some people are so willing to get involved in fundraising that they'll take part in typical school type fundraising events such as a sponsored sleep over, sponsored shaves or more. Some may even donate an hour of their pay towards your cause if you can arrange that. Many companies are happy to match the amount of funds that their employees raise for charity so ask your employer if they will get involved.
Check With Local Charities
Many local charities will be ecstatic to hear that your workplace wants to help them raise funds. They will often send you out fundraising packs, information and promotional items to help in your quest. Many will also be able to inform you of ways that you can fundraise at work that you may not even be aware of. Often you can recycle your work consumables such as ink cartridges etc to make money for a local charity. You can even get involved by simply buying numerous charity calendars to place around the workplace. Remember charities are always open to hearing fundraising ideas and welcome people getting involved. There are numerous ways to fundraise at work, just use your imagination and get people involved.
You might also like...