Going it Alone or Joining an Existing Fundraising Movement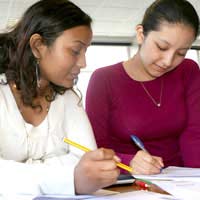 When you realise that you want to make a difference by helping a charity that has touched your heart, there comes the decision of whether to go it alone or to join an existing charity or fundraising movement. For many people, the easiest option is to simply join an existing charity and contribute to their fundraising efforts. There are other choices though and each has it's own benefits and pitfalls.
Going it Alone in Fundraising
If you decide to be a sole fundraiser for your cause, you'll have to ensure that you've covered the legal aspects of doing so. In many cases, to collect money for a cause, you will need an ID badge, a license, a sealed collection tin and many other 'proper use' items. As a sole fundraiser, you're also responsible for ensuring that the charity or individual you're collecting for is aware of your fundraising efforts and agrees to the type of fundraising that you're undertaking. One of the most difficult aspects of fundraising alone or even starting up a new charity is that you don't have the experience or contacts that working with an existing charity might bring.
As an individual trying to generate fundraising income, the entire success or failure of the campaign rests on you and this can be a lot of stress to take on when you are inexperienced. Of course some people see this as a positive aspect of fundraising as you are learning as you go, as well as having complete control over the hours you work, the methods you use and the money you earn. There are many trust fundraisers out there who make a good living working for companies who hire them for specific fundraising tasks. The trick with being freelance as a fundraiser is to be organised and keep a portfolio of your fundraising achievements and of course a note of all your contacts. This can come in very handy for furthering your career as a solo fundraiser, whether that is working on your own causes, or helping out others as a contracted freelance fundraiser.
Joining an Existing Charity
As a fundraiser, one of the core reasons for being so should be to help out others in need. Whether that is raising money for a national charity, or simply earning funds for a small local group, your heart has to be in the right place to succeed. At times, joining an existing charity can be the most efficient and quickest way of making a difference to someone's life. There are no shortage of charities out there looking for volunteers to help with fundraising and by contacting them direct they will be able to explain to you the numerous ways you can get involved. If you're looking for something that isn't voluntary then it can still be worthwhile getting involved with an existing charity.
Many charities or fundraising organisations are keen to develop the fundraising skills of people who join them and will offer full time careers in fundraising to the right individual. In order to find the job that is best suited to you, try reading some fundraising magazines or some of the job supplements in reputable newspapers like The Times or The Guardian. Not only will it help you get the experience you need, but the support from a larger organisation can hone your fundraising skills so that you're able to become successful in the field. For many starting off, even in a company, it can be a struggle to get to grips with targets, contacts, fundraising plans and everything else that is involved in being a professional fundraiser. However, the positive aspect is that you should have more people to support you and provide you with tips to in how to become a better, more well rounded fundraiser. Even if you're only planning to fundraise for one charity or one cause, being part of a larger organisation comes with these benefits.
You might also like...