Raise Funds With a Charity Sky Dive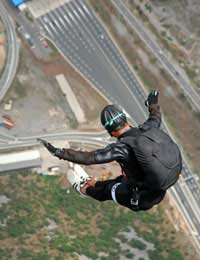 When it comes to raising money for charity, the sky really is the limit for many people. An increasingly popular way of making an impression on possible donors and getting lots of attention for your chosen charity is to take to the skies on a charity skydive. There are many companies throughout the UK now who will be happy to arrange this for you and if you're feeling adventurous you could even travel abroad to do it. The trick with arranging a charity skydive though is good organisation, publicity and plenty of supporters – this should make your parachuting adventure go to plan without a hitch.
Choosing a Charity Skydiving Company
There are a multitude of skydiving companies based throughout the UK and when it comes time to choose the one you want to go with, it's extremely important to research them first. Some people feel more comfortable going with a national chain of skydiving companies, while others prefer a local approach. Whatever you decide on though, ensure you're 100% happy with their professionalism, safety record and prices. Some of the main companies are listed below with a brief explanation on what they can offer you:
Skyline Parachuting - A nationwide UK company who specialise in charity jumps. They have a fantastic range of charities that they support by offering free jumps to those wishing to raise funds on their behalf. They also have a great safety record and are known for their professionalism.
Target Skysports - A Leeds based organisation who offer free tandem skydives for charity. A professional and reputable company who make it easy to jump for charity.
Skydive Zone - A national company who pride themselves in their charity work and offer a variety of methods for raising funds through skydiving. Great professionalism and safety records are part of their operation.
There are plenty of other reputable companies available, so do some research first. Always make sure you ask plenty of questions though and have a good feeling for the individuals there. If you're putting the life of yourself and others in their hands, it's important to know that they're going to be careful and look after you. A good skydiving company will have answers to all your questions and concerns and should make you feel at ease.
How You Can Jump for Charity for Free
Most people are confused about how skydiving companies are able to afford to offer free jumps when you're raising money for charity. Individual companies deal with this in their own way, but overall, the cost of the jump is covered by donations and/or the charity you're collecting for.
One common way of parachuting for free, but raising money for charity is to guarantee a minimum amount of sponsorship. The skydive company will give you a price for the jump and ask that you raise a minimum amount of donations or sponsorship. This means that from that money, you can pay the dive, and then simply give the rest to charity. For example, you're told to raise 390GBP. This includes a deposit of 70GBP, a balance of 180GBP for the jump and then this leaves you with 140GBP for your chosen charity. This is a very common way of raising funds for charities and many skydive companies have arrangements with specific charities to do this. Another way of doing it, is to use 50% of what you raise to cover the costs of the jump.
Once these are covered, any left over cash is given to the charity of your choice. Many companies offer this and will outline their own specific prices so that you know exactly what you need to raise in sponsorship to make it worthwhile. Check which companies offer entirely free jumps and which charities offer sponsorship for people to take part. They will normally be listed on each companies page and you should pick the charity you feel most passionately about, after all, it's better to jump out of a plane for something you truly believe in!
Different Kinds of Charity Jumps
There are a number of different ways that you can skydive for charity. One of the most common is the tandem skydive, where you're strapped onto an instructor for the entire journey down. The instructor will deploy your parachute for you and will make sure you're safe. This is one of the safest ways for beginners and many skydive companies recommend this for first time jumpers, or those who are simply a little nervous. These are often the cheapest jumps and the difference between these and the accelerated freefall can be a few hundred pounds. The accelerated freefall jump requires training and you'll usually start on level 1 and then decide if you wish to proceed to level 2. This is normally for more serious jumpers who may like to do further charity jumps or indeed take it up as a sport. Whichever jump you choose, just remember you're doing it for a good cause and you're highlighting your charity to others.
Organising Individuals to Take Part
Once you've chosen your sky diving company, your charity and the type of jump you'll do, the next part is getting others to join you. Hopefully you shouldn't have too much trouble doing this, but if you do, try putting adverts in local windows, university notice board or community centres. There are surprisingly a good number of people who'd like to skydive but can't afford to, so doing so for charity is a great excuse. When you've got your volunteers, organise a date and take to the skies! Good luck!
You might also like...
we want to raise money for our organisation 'Salcare' a registered charity, and have a couple of people who would like to do this by doing a sky jump, can you help us with how to set this up please
salcare
- 4-May-17 @ 12:50 PM