My Charity Lost Out to Street Collectors: Case Study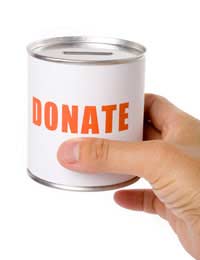 An increasing number of charities have a highly visible presence thanks to the proliferation of street collectors. While street collections are nothing new, the rise of the 'chugging' industry has seen it become a favoured fundraising and marketing method for many charitable organisations.
In the past, many charities ran their own street collections. This involves seeking permission from the local council and following a set of strict rules that vary from area to area. For charities with a local purpose this is obviously relatively simple, but organisations that wish to spread themselves across the country have found it significantly more difficult.
Professional street collectors are seen as a godsend by many charities. These groups will run collections on your behalf, increasing your visibility across the country and hopefully signing up a new swathe of Direct Debit donors. Even better, most operate on the basis that the amount you pay is related to the number of donors they find you.
Performance-related pay
But, while some charities enjoy a good relationship with professional collectors, others have had very bad experiences. We spoke to the director of a small London-based children's charity, who explained that professional street collectors are not necessarily right for every organisation.
"We are a very small charity," she told us. "We have just four employees and a relatively small volunteer base that is mainly based around London. We wanted to spread out around the country, and it seemed like professional street collectors might be a good way for us to achieve that."
The charity found a professional street collection firm that offered a 'performance-related' payment structure. "Basically, aside from a relatively small initial charge, we would only pay for the donors that they signed up. This sounded great, particularly given that we have a pretty limited fundraising budget."
National collections
The firm arranged collections in six cities around the country, over the course of a month. When the collections were over and they reported back, the charity had several hundred new Direct Debit donors. "We were delighted," the director said. "It seemed like a major boost to our income. Plus, thousands more people were now aware of the charity, even if they hadn't signed up."
Attrition rates
But before long, the reality of the situation began to change. "Within the first month, almost 40 per cent of the donors had cancelled their Direct Debits. It was then that the deal started to get much more expensive."
The collection firm based their charge on the total that each donor would give over the course of a year, and this was billed to the charity when the collections were completed. But, as so many donors immediately cancelled their Direct Debits, the charity ended up paying vastly over the odds for a single month of donations.
"In the end, we ended up spending more money than we will have received over the course of the year. We simply had no idea that people would cancel their Direct Debits so quickly. If we had known the attrition rates were so high, we never would have gone about it this way."
Street collections remain a useful tool for many charities, and some rely on them for the bulk of their donor income. But it is important to understand the high risks associated with this form of fundraising – and to make sure that you have the cash available to pay for it if the collections do not go to plan.
You might also like...
Isn't it sad when the only comment is such a negative and judgemental one. I am probably one of the so called "fat charity directors".Twenty five years ago I took a 50% salary cut and gave up lots of other corporate perks when I joined a children's charity as a fundraiser. I still haven't caught up but I thought then that I might make a difference. Fortunately, because of the very many generous and thoughtful people I meet on a daily basis, I know this is the case.So, I earn a lot less but, like manyfundraisers, I also support several charities and now donate as much as I can to some excellent causes - andnot by throwing a few coins at a homeless person.Retiring at 65, only a couple of years away, is out of the question as the pension contributions I have accrued over those 25 years are not yet sufficient. Yes, that is my problem but someone once said to me that to contribute to (something or someone) is to achieve the highest state of humanity.So, why not give it a try?You never know, you might like it!
BillyD
- 5-Oct-11 @ 6:27 PM
I don't know who are more annoying to come across in your local town centre, drug users begging for 50p for the bus fair home, or your new age traveller type trying to get your bank details. I travel all over the country and I am stopped by these people daily - very annoying with their multi tee-shirts.I always give a little for the addict, but will never help these fat charity directors over-indulge.
don
- 18-Mar-11 @ 12:09 AM