New Media Technology and Fundraising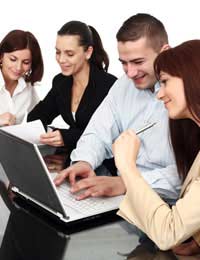 New media technology has been one of societies greatest advances over the last 20 years. Previously people relied on print media and analogue broadcasting such as television and radio to get their fundraising underway. Now, with the advancement of new media technology such as the Internet, computers, digital video, audio and more, there is a whole new world open to people involved in fundraising. Whether you're a large company or a an individual, you can utilise new media technology to improve your fundraising reach.
Using Social Networking as a Fundraising Tool
If you're used to being online, one of the main environments you may engage in on a regular basis is some kind of social networking. The main social network sites at the moment are MySpace and Facebook. With their ease of customisation and far reaching networking systems, both are great ways of highlighting how easy it is to use new technology to make a difference in the world. 'Causes on Facebook' is an application that has been created by Project Agape to allow anyone to highlight their favourite charity cause on their Facebook page. They currently list around 10,000 causes and have approximately 300,000 users. The great aspect of this kind of fundraising is that it's on your page that is visited by friends and family. They are already a 'warm' audience and are likely to be more interested in learning about your support for a certain charity. There are similar buttons and widgets available on MySpace also and you can prompt your friends to join your cause and give support to your fundraising drive. Widgets are little buttons or programs that can sit on your websites including your social networking sites. These are becoming more popular and as people begin to learn how to create and customise their own widgets, their popularity looks set to continue.
Charities Can Use New Media Technology Too
Using new media technology isn't only for the solo fundraiser or part-time fundraiser. Charities can make use of technology too for spreading the word about their cause. Creating a fun and inviting online web presence can make people appreciate your cause more and often they'll spend more time looking at pages that look professional and welcoming. Remember that that presence you create online will represent your fundraising event to thousands, if not millions of people. It's important that it's been created right, providing all the information that your possible supporters may need. You can also use new technology to make donations easier. Investing in a good fundraising software package, or simply using a well established pay system such as Paypal will increase your ability to accept cash payments and will show supporters just how easy it is to get involved in fundraising. Many charities will invest in a technology company to design an effective campaign for them using new technology. The Charity Technology Trust is set up to help fundraising bodies make the most of the new technology that is available to them. They can help plan an online campaign, set up audio and video ideas for you to utilise or even help you develop fundraising ideas through SMS. Using a company such as this will cost of course and many of the ideas can be followed on your own if you have the time and expertise.
Other Forms of New Technology
Many people now own an MP3 player and this has been another form of targeting potential supporters. You can set up audio and visual clips on your website for people to download and listen to on the move. Sometimes people don't have time to sit in front of their computer reading through everything about your fundraising event, so giving them the choice of downloading your information and listening to it as they go to work etc is one of the most approachable ways of getting access to them. Creating podcasts for them to listen to at their leisure gives them control over when to get involved and is a good way of getting your message out there. You can also invest in an SMS based campaign where people are text information about your fundraising event. This is usually subject to certain legalities of course and in this instance you should approach a professional fundraising service provider to help. There are plenty of ways of utilising new media, so start planning your assault on technology now and watch your fundraising soar.
You might also like...