How Do We Encourage and Accept Legacies and Bequests?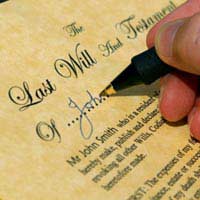 Legacies and bequests are vital for many charities. They can provide a potentially significant income for charitable organisations, and require relatively little administration. But encouraging and accepting donations of this kind can be a difficult process, fraught with potential problems.
What are legacies and bequests?
Many of us wish to ensure that, when we die, some of our assets are given to charities or other organisations that we support. Leaving a bequest in your will is the simplest way of achieving this.
Legacies and bequests constitute the most important form of income for a large proportion of Britain's charities. Many charitable organisations rely on this type of donation, and would be unable to operate without them.
Given their importance, legacies and bequests are remarkably simple. At the simplest level, they are no more than an instruction that assets should be disbursed in a certain manner. This instruction is set out in the individual's will, and is acted upon by the executors. In this way, anyone can leave money or assets to a charity easily.
How do we accept them?
You do not need to take any special steps in order to accept legacies and bequests. Perhaps the best way to think of the process is to consider it similar to accepting a conventional cash donation. Disbursements of assets following a legacy or bequest will be made by the deceased individual's executors; this is often a friend or family member, but could be a professional.
It is also worth remembering that legacies and bequests are, by their nature, unpredictable. They are also open to challenge; if a dependant believes that they have been treated unfairly in a will, or it is suggested that the testator (that is, the individual making the will) was coerced or not in sound mind when the document was written, it can be overturned by a court.
How do we encourage them?
Charities take a range of steps to encourage donations through legacies and bequests. The importance of this type of donation has led charities of virtually every size to build departments dedicated to encouraging them.
There is a range of ways that you can encourage individuals to donate through legacies and bequests. To begin with, it is worth remembering that existing donors are likely to be the most likely to give in this way. You might therefore consider sending literature to these individuals, explaining legacies and outlining how they can leave money to your charity if they wish. You will of course need to carefully consider the language you use when doing this.
On a cautionary note, you may also wish to consider the difficulties faced by Age UK, the organisation formed when Age Concern and Help the Aged merged. The charity was criticised earlier this year when it emerged that it sometimes pays for wills to be written when the individual has indicated that they will leave a bequest. Although the charity denied that this was out of the ordinary (and there has been no suggestion that it was improper), it is a stark illustration of the potential PR difficulties associated with accepting legacies and bequests.
Legacies and bequests can be an important fundraising tool for charities. As long as you are sensitive and tactful in your efforts to encourage donations of this kind, your charity can benefit significantly.
You might also like...