What is a Charitable Bequest?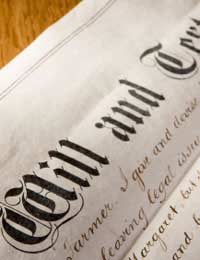 Bequests and legacies constitute a vitally important income stream for a large number of charities. They provide these organisations with one-off or ongoing donations that are often higher in value than conventional gifts.
But there is confusion about the nature of bequests, particularly amongst smaller charities. So what are they, and how can they help your organisation?
What are bequests?
A bequest is a gift made by an individual in their will. Bequests can be made to a range of individuals or organisations; most people choose to bequeath the majority of their estate (that is, their total assets on their death) to their spouse or family. Many others, though, choose to leave some of their assets to charity.
The terms 'bequest' and 'legacy' are often used interchangeably in the fundraising world. These terms basically describe the same thing: the gift of cash or other assets from a testator (that is, the individual writing the will) to a recipient – known as the beneficiary.
How can they help my charity?
Bequests and legacies are a key source of income for many charities. They provide a unique opportunity for many charitable organisations to receive a potentially large, one-off payment – or even the use of an asset other than cash. For example, many charities have had their premises donated through a bequest; at the other end of the spectrum, many galleries are filled with artworks donated in this way.
You should remember, though, that bequests and legacies can be very difficult to secure. Understandably, people are generally keen to ensure that their assets pass on their death to a person or organisation that means a lot to them. As such, it tends to be those charities that have the closest, most personal links with their donors that benefit the most from bequests. It is also important to note that bequests are almost exclusively given by those with some existing link with a charity. As such, soliciting bequests from potential (rather than existing) donors is unlikely to yield success. Indeed, in some cases it can be seen as inappropriate or offensive.
How can I leave a charitable bequest?
If you are potential donor considering leaving a charitable bequest, you will be pleased to hear that the process for doing so is relatively straightforward. A bequest is no more than an instruction in your will. Upon your death this document will be read by your executors (the individuals you have nominated to carry out your wishes) and they will act on your instructions.
You can therefore create a charitable bequest by simply leaving details in your will of the asset you wish to bequeath, and your intended beneficiary. You should also ensure that your will is prepared in accordance with the law; amongst other things you must be in sound mind at the time of writing, and it should be signed by witnesses.
Some people choose to leave bequests through a trust system. In these arrangements, assets are transferred into trust, and trustees are appointed to ensure that the bequest is properly handled. This is normally reserved for larger or more complex bequests. You should seek advice from a solicitor if you wish to explore this avenue.
Charitable bequests are an important tool for charities, fundraisers, and potential donors. If you are a fundraiser you may wish to consider ways that you can encourage gifts of this sort, as they can provide a valuable source of income for charitable organisations.
You might also like...