The Truth About Professional Fundraisers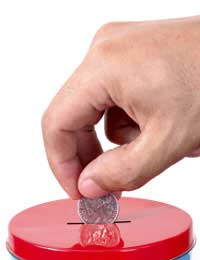 Professional fundraisers have become ever more visible in recent years. It is virtually impossible to walk down a high street in any city in the country without being accosted by a 'chugger' (a perhaps unkind name derived from 'charity mugger'), particularly over the weekends. Charities are increasingly relying on these individuals to bring in the donations that they need to survive.
What are Professional Fundraisers?
There is a large and ever-growing number of professional fundraising firms touting their services to charitable organisations in the UK. A cursory look at the jobs pages of several weekly magazines will reveal a list of fundraising positions, well paid and with great perks. In return, these fundraisers are expected to corner individuals on the street, and charm them into making a regular donation to whichever charity they are representing that day.
Of course, it is neither the pay nor the treatment of the fundraisers themselves that is the questionable part of this practice. First, the positive aspects of professional fundraisers: they provide a visible presence for charities who may otherwise be unable to afford national advertising. They clearly bring in some income for these charities, otherwise they would not be in business. Finally, they present a personal, human front for charitable organisations that are frequently seen by the public as distant and disconnected from their daily lives.
Criticism
Some of the less well publicised aspects of professional fundraising have drawn significant criticism, not least from charities – many of whom refuse to use these companies on both practical and ethical grounds.
In the first instance, many fundraisers will spend as little as a day collecting for an individual charity. They will be quickly briefed by their manager at the beginning of the day, and provided with a script. Clearly, fundraisers working in this way have little more than a basic understanding of the work being done by the charity in question, and are therefore incapable of answering more complex questions posed by members of the public who want more insight into that work. This can present the charity itself as inefficient and disorganised.
Payment Terms
More important, is the payment terms demanded by fundraising companies. The attrition rate for this type of collection is high; that is, a high percentage of people who sign up will cancel their direct debit very quickly, often within days. Regardless of this, the fundraising company will still be paid by the charity as if the donor had remained signed up for a certain period, normally a year. As such, charities actually lose money on a huge proportion of individuals signed up by professional fundraisers.
A Donor Care Manager at a large national charity, who wished to remain anonymous, told RaisingFunding, "We don't use professional fundraisers because we believe this would mislead potential supporters. Furthermore, such methods do not generate a sustainable supporter base. We seek to forge genuine, trusting relationships with our supporters. We are not out to make a quick buck."
Clearly, professional fundraisers can provide income – otherwise they would not exist. However, it is important to decide whether income alone is enough, and whether the use of professional fundraisers would compromise the moral standards of your charity.
You might also like...