Direct Mail Transformed Our Fundraising: a Case Study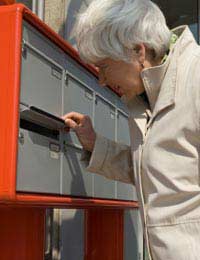 Marketing is something that does not come easily to many charities. A large proportion of charitable organisations are established by people with extensive experience in the fields in which the charity will operate – but little experience in marketing. So, this vital occupation often gets forgotten.
But marketing is of fundamental importance to charities of every size. We spoke to Anna, head of a charity offering care to the elderly in the South-East of England (and to whom we also spoke about partnerships in an article elsewhere on this site) about her innovative marketing efforts using direct mail.
Learning to market
The charity in question had relatively little existing in-house marketing experience. "The charity grew pretty organically, and none of the staff on administrative side came from a marketing background," Anna told us. "So we were sort of feeling in the dark."
The charity tried a range of different marketing techniques in its early stages. "We have some lottery funding and a small private bequest, but cash is always tight. We ran events, did sponsored walks, held street collections. You name it, we tried it." But, while these activities did bring in some extra money, the results were not as positive as the charity had hoped.
Cost-benefit
"Initially we shied away from anything that meant we actually needed to spend money," Anna said. "But in the end we realised that the old saying about having to spend money to make money really is true."
The charity had some flyers printed up, which they then distributed to houses around the local area. "We delivered them by hand, initially. The response was just phenomenal. We had dozens of phone calls from people saying that they knew we were here, and they had heard of us, but they hadn't thought to get in touch. People were offering to volunteer, and the donations started coming in pretty quick."
Today, the charity runs regular direct mail campaigns. "We know who our most likely donors are, and we target the mailings to them. But we also have a core of supporters building up, and we send them personalised mailshots to keep them up to date.
"It's certainly not free, but by our reckoning the benefits outweigh the costs by about three to one."
Improved interaction
Anna says that the most important benefit has been increased interaction amongst potential supporters. "We are a small charity, and we rely on people donating not just money but also their time. Our direct mail campaigns have improved volunteer rates, and people are now talking about running their own sponsored events to raise donations.
"We have got much better at measuring interaction. We keep a tally of calls and emails received, and we are always thinking about ways that we can make it more likely for people to want to get in touch."
The charity looks set to continue expanding its direct mail activities. "Direct mail really has been an enormous boost to us. We'll keep going with it for as long as we get a good reaction."
You might also like...