Help Your Cause Through Local Media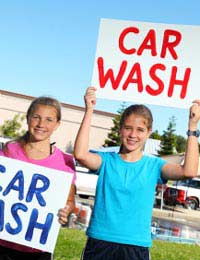 The world of fundraising is a competitive one. There are thousands of causes and organisations all vying for the attention of the public, and of potential donors. If you are to run a successful fundraising campaign, you need to make your cause stand out from the crowd.
Local media is often an effective means by which this can be achieved. National advertising or PR campaigns are beyond the reach of most charities – but almost everyone can leverage their local media to some extent.
So what techniques can you use to help get the most from the media?
PR is king
Charities and independent fundraisers can learn a lot from businesses. PR is vitally important if you want to raise awareness and funds for your cause – and PR is the language that local media understands.
To begin with, you have to have a gripping story. Local media thrives on drama and local interest; with a combination of these two you have a recipe for success. Consider ways that you can get local people involved. For example, could a member of the local community take part in a sponsored event? Or could you organise a gathering for interested local people?
A great press release is also vitally important. This should be as snappy as possible, concentrating on the key elements of the charity and your fundraising activities. Professional PRs 'frontload' their press releases. This means that the important information, and the bits that will pique the interest of the reader, are given early on. General information about the charity is then provided later.
Find a figurehead
You are more likely to secure coverage if you can provide an interesting figurehead or spokesperson for your campaign. If you can find a well-known person to speak on your behalf, much of your work will already have been done.
Large charities will often have existing relationships with celebrity patrons who may be willing to talk to local press for you. You should speak to the charity in question for more information.
It is worth remembering, though, that the spokesperson need not be famous. The press will often cover a local person with an interesting story to tell even if they do not already have a high profile.
Consider advertising
Finally, if you want to guarantee coverage in the local media, you might consider buying advertising. Of course, this pushes your costs up, but it can be an effective way of generating interest. Radio advertising tends to be particularly effective for charities – although this can be expensive.
You may also wish to think about approaching your local newspaper and enquiring about 'advertorial'. This is a hybrid of conventional coverage and advertising, and can be a better solution than straightforward ads. Advertorial helps to encourage a sense of trust amongst readers that might not be achieved through conventional advertising.
Throughout this process you should remember to keep an eye on costs. Advertising and PR can be expensive – so try to prioritise, and make sure that you only spend what is necessary to boost donations and raise awareness.
You might also like...
Good morning everyone I am looking for people who can donate sponsorship, items and advertisement to help a small organisation who going through process getting hmrc number as we don't meet annual income of£5000. I have settled up Iris-May Butterfly kisses to help grieving parents to have upto 72 hours with their baby who passed away aswell proving memory boxes for them from all gestation of pregnancy. We have some events planned from Easter egg hunt, kids disco, family bingo to try raise funds for these. If you can help with either supplying donations to help with doing events, printing to raise more awareness of Iris-May Butterfly kisses. I will showcase your logo on all newsletter and will even send updates on how your support has helped.
Steph
- 7-Feb-18 @ 6:35 AM
Please can any company sponsor or donate to my dance troupe WEST EDINBURGH MAJORETTES PLEASE e mail me if you are interested janemacdonald7 Kindest regards J Macdonald x
Jane
- 3-Oct-17 @ 10:32 PM
I'm looking for a genuine company to sponsor our dance troupe, WEST EDINBURGH MAJORETTES, we work hard to raise funds for outfits, shoes, batons amongst other things, we have been going over Six years, and have accomplished our troupe to become winners in every aspect, we do two competitions a year and constantly fundraiser which is all part of providing for our kids, have been totally robbed through the council raising the hall prices, we can't afford to charge kids anymore than we do for training, as we live in a community of Edinburgh that should be recognised for what the ordinary people do for there own, we would love if some company could help with the cost of our fees for halls, I would challenge any company to come and see what we do for these kids, and more importantly what they have achieved with little help from council, personally, we have a majority of kids who come from nothing and have topped amazing results as leaders mascots and trope dancers, we desperately would love some kind of feedback to see who would help, this would help us save for there much needed outfits, batons, etc... this would help us focus more on our outlay for the foreseeable future, Kindest regards Jane macdonald Treasurer Fundraiser And dtetermend we will survive for many years to come Jane macdonald West Edinburgh Majorettes.
Macca
- 11-Jul-17 @ 5:19 PM